The #1 source for your commercial roofing and paving needs
Serving the Atlanta Metro area
Thermal Imaging
Ask about thermal imaging. We can pinpoint problem areas before you need a roof replacement

Commercial Roofing
Commercial roofing has been a mainstay at Advanced Roofing & Paving for over a decade. We have the knowledge and experience.

Roofing Repair
Our roof repair experts can repair a commercial building and provide product and workmanship guarantees.

Paving
Paving is our specialty. We invite you to enjoy the peace of mind, quality of work, and satisfaction that we offer.
Why Choose Advanced Roofing & Paving?

Years of Industry Experience

Professional & Knowledgeable

Highly Trained Certified Techs
Your Metro Atlanta Commercial Roofing & Paving Experts
With years of experience and a team of skilled professionals, we have established ourselves as the trusted and reliable go-to source for Atlanta's commercial roofing and paving needs.
We are dedicated to providing high-quality services for businesses and organizations across a wide range of industries.
Whether you're in need of a new roof installation, roof repair or maintenance, or asphalt paving services, we have the expertise to get the job done right. From small businesses to large commercial properties, we have the skills and exerience to handle any project, large or small.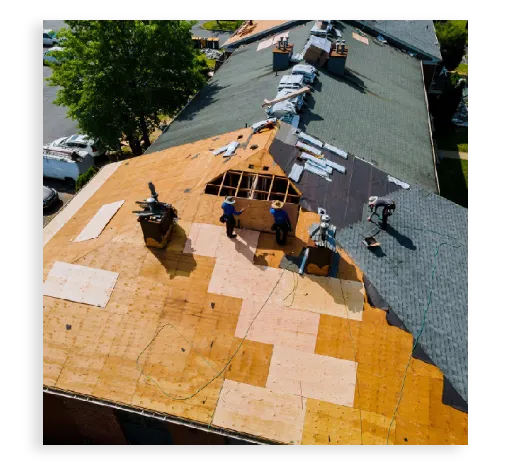 Our commitment to using only the best materials and the latest techniques ensures that your project will be completed on time and to your satisfaction.
At our commercial roofing and paving company, we believe that customer satisfaction is key. That's why we always go the extra mile to ensure that our clients are completely satisfied with our services.
We strive to build lasting relationships with our clients and earn their trust through our commitment to quality workmanship and exceptional customer service.
Thank you for considering Advanced Roofing & Paving for your next commercial roofing or paving project. We look forward to working with you and exceeding your expectations.
Donnie, was on time and very eager to make sure I was comfortable with all the work that they performed. No pressure, just very solid company and letting you know what they do and how they do it. I highly recommend them!
seal coated my entire parking lot excellent service excellent quality and a reasonable price
Great work resurfacing my business property. The price was right. Professional and punctual. Recommended.
After having multiple sealcoat contractors 'no-show', we were referred to Advance Roofing and Paving. Donny came out promptly, worked up a reasonable quote to sealcoat our 10,000 sq foot drive and parking area, and emailed it that same day. I signed the document on Sunday, and they were able to do the work within a couple of days. Two coats of sealcoat, with a warranty on both material and workmanship. Showed up when they said they would, and did outstanding quality work at a fair price. MY VERY TOP RECOMMENDATION for anybody looking to maintain their asphalt investment!!
Donny came out and looked at our shopping center roof, sent us a proposal that evening that was well below competitors quotes, and worked over 10 hours the next day to complete the work in a single day! Very happy with Advanced Roofing & Paving's services and highly recommend using them for your commercial roofing needs!
Thank you for resolving an on going issue with my roof. I would recommend you guys to anyone that has roof issues.
This company placed a much needed new roof on our barn. Excellent job done by this hard working group of guys. Thanks!
great work from good guys, I would recommend.
Request Your Roofing Service Online Today!